SexySat TV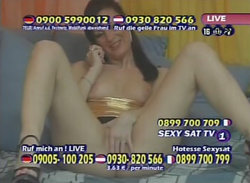 Quick Infos
| | |
| --- | --- |
| Channel Launch: | 2001 |
| Location: | Slovakia |
| Picture Quality | bad |
| Sound Quality: | bad |
| Full Nudity: | yes |
| Explicit Nudity: | yes |
August 4th 2004: a bloody date for liveshow channels history. On this date, SexySat TV changed from being the best one to the shit you can watch now. Maybe there was a change of owner, maybe the owner decided to operate in a cheaper market, but the only sure thing is that SexySat TV moved from Holland to Slovakia. In the Holland times, things worked in this way: girls did 15 days' shows in a row, shows started at 20.00 and were topless shows until midnight and hot shows after. The girls were very kind with callers and were allowed to do almost everything. We had even dildo actions. Some girls were so great that their names are still remembered by a lot of fans.
In Slovakia, things became worse and sadly the viewers have to accept the stupid decisions made by the SexySat TV staff, formulateed by people without any signs of a brain in their heads: so we have live shows from 14.00 to 02.00 am which are X rated, but from 02.00 to 14.00 we get rebroadcasts of the Holland XX rated shows; and this means that SexySat TV is hotter in the morning than at night. SexySat TV's unprofessionalism means they have problems which give us horrible picture quality (and a record of 67 days without sound on SexySat TV 2), a boring show with girls constrained to always do the same things every day, and get naked always at the same time. Clearly the girls are really unmotivated.
The tv show, which was the pioneer in the liveshows world is now really meaningless to watch: even the beauty and quality of the girls is less day by day. Unfortunately they have expanded onto Astra and even a new SexySat TV 4 has started.
In december 2008 SexySat TV 3 and 4 ceased transmission which means that SexySat TV 1 on Astra and SexySat TV 2 Hotbird are the only SexySat channels left. Some time later, Sexysat2 disappeared from Hotbird, so only Sexysat Astra remains.
Since 2010 rules are even more relaxed with the nightshows being very explicit. Unfortunately SexySat TV just offers a few models, most of them having joined the channel years ago. The poor picture-quality is even more ruined by ever-new sets of banners and phonenumbers.
---
More Screen Caps:
---
Reception:
| | |
| --- | --- |
| Channel: | SexySat TV Astra |
| Satellite: | Astra 1H, 19.2 ° east |
| Parameters | 11.068 V, SR 22.000, FEC 5/6 |
| Bitrate: | 1.6 MBit |
| Resolution: | 544x576 pixel |
| | |
| --- | --- |
| Channel: | SexySat |
| Satellite: | Hotbird 3, 13 ° east |
| Parameters | 12.360 H, SR 27.500, FEC 3/4 |
| Bitrate: | 1.4 MBit |
| Resolution: | 352x576 pixel |