BangBabes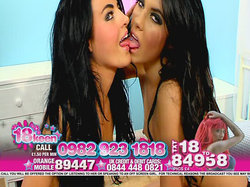 Quick Infos
| | |
| --- | --- |
| Location: | UK |
| Picture Quality | good |
| Sound Quality: | good |
| Full Nudity: | no |
| Explicit Nudity: | no |
Bangbabes is another of the bigger babeshow operations. It currently has three dedicated channels on the Sky platform. Strangely the girls are allowed to take their tops off half an hour earlier than on most of the other UK channels. Until recently it did allow non-explicit full nudity after 2200, but after several brushes with the UK regulator Ofcom, where they were found to be in breach of "The Code", they have opted for the safer approach of topless only.
The picture quality is good, but the shows are not very innovative.
BangBabes had to cease transmissions on 07/01/2011 for reportedly breaching too many rules.
---
More Screen Caps:
---
Reception:
| | |
| --- | --- |
| Channel: | Tease Me 2 |
| Satellite: | Eurobird, 28,2° east |
| Parameters: | 11.390 V, 27.500, 2/3 |
| Bitrate: | n.a. |
| Resolution: | 704x576 pixel |
| | |
| --- | --- |
| Channel: | RedLightZone 1 |
| Satellite: | Eurobird, 28,2° east |
| Parameters: | 11.390 V, 27.500, 2/3 |
| Bitrate: | n.a. |
| Resolution: | 704x576 pixel, 16:9 |
| | |
| --- | --- |
| Channel: | RedLightZone 2 |
| Satellite: | Eurobird, 28,2° east |
| Parameters: | 11.390 V, 27.500, 2/3 |
| Bitrate: | n.a. |
| Resolution: | 544x576 pixel |