Diva Futura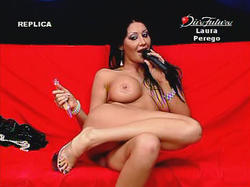 Quick Infos
| | |
| --- | --- |
| Location: | Italy |
| Picture Quality | average |
| Sound Quality: | good |
| Full Nudity: | yes |
| Explicit Nudity: | yes |
Long time ago, Diva Futura has founded its first satellite television channels in Italy on Hotbird. Its original channel (commonly known as Diva Futura TV) began in August 2004, and Diva Futura Plus launched on 1 September 2006. Another channel called Diva Futura Sex started transmissions on 15 August 2007.
Meanwhile all former Diva Futurea channels ceased transmission and a brand new pay tv channel called Diva Futura started broadcasting on Hotbird, aring liveshows and porn movies.
On 01/06/2011 Diva Futura TV has ceased transmissions, the channel has been switched off.
---
Reception: