BluYoo TV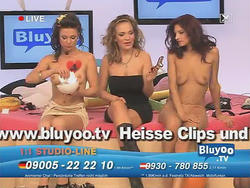 Quick Infos
| | |
| --- | --- |
| Location: | Austria |
| Picture Quality: | average |
| Sound Quality: | good |
| Full Nudity: | yes |
| Explicit Nudity: | no |
BluYoo is a brand-new liveshow channel located in Austria and officially started broadcasting on the Astra satellite system on October 30th 2010. It features an interactive liveshow smiliar to eUrotic TV where you can call the girls or send text messages requesting the models to fulfil wishes.
At present BluYoo has signed about 8 models, some of them probably well-know from webcam and other adult entertainment websites. The picture quality
is - due to the low bitrate used - rather bad.
The latest news is that BluYoo has gone off the air in mid-November 2010.
Stay tuned for further infos.
---
Reception:
| | |
| --- | --- |
| Channel: | ALL FUN TV |
| Satellite: | Astra, 19.2 ° east |
| Parameters: | 12.263 H, SR 22.500, FEC 5/6 |
| Bitrate: | 1.3 MBit/s |
| Resolution: | 544x576 pixel |
| | |
| --- | --- |
| Channel: | Aktiv Direkt TV |
| Satellite: | Astra, 19.2 ° east |
| Parameters: | 12.263 H, SR 22.500, FEC 5/6 |
| Bitrate: | 1.2 MBit/s |
| Resolution: | 544x576 pixel |