LIVE 24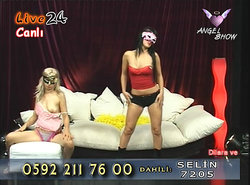 Quick Infos
| | |
| --- | --- |
| Location: | Turkey |
| Picture Quality | good |
| Sound Quality: | good |
| Full Nudity: | yes |
| Explicit Nudity: | yes |
Live 24 was the first Turkish erotic channel on satellite. During the day recorded censored liveshows with pretty models dancing and erotic turkish movies were aired. At around 16.00 you could watch a topless liveshow (which was really live) with masked models (until around 20.00). At night once again censored turkish sex-movies were broadcasted.
When the show started it was pretty hot, but tamed down after some weeks. Girls were even allowed to take off their panties. Weeks later the models were only allowed to show their breasts.
The quality of the channel was great (720x576 Pixel at 2.3 MBit bandwidth), the show was entertaining and sexy.
After a longer break Live24 started broadcasting liveshows again in May 2008. The new shows were unfortunately totally censored, nudity was prohibited before 23.00, with topless shows being allowed after 23:00.
Since mid of August 2008 Live 24 completely stopped airing liveshows und started broadcasting recorded material only.
In autumn 2008 Live 24 - one of the best liveshow channels - sadly ceased transmission.
---
More Screen Caps: